European clinical trials

Is it ECRIN or ECRAN?
Actually, it is both. 
The European Commission (FP7 Health Priority) has allocated substantial funding for supporting independent clinical trials by means of two wide projects:
ECRIN  – European Clinical Research Infrastructure Network  – for designing and conducting independent, multinational clinical trials
ECRAN – European Communication on Research Awareness Needs – for communicating key-messages to citizens, patients, healthcare professionals, etc... about independent, multinational clinical research.
ECRIN website provides patient-friendly, multilingual information about the supported clinical trials (explainig in particular how the protocol was designed and the role of the ECRIN Scientific Board to ensure methodological, scientific, medical and ethical soundness) as well as up to date news on ECRIN activities.
ECRIN: Mission and goals
The European Clinical Research Infrastructure Network – ECRIN – supports, coordinates and manages high-quality, independent and fully transparent multinational clinical trials.
ECRIN aims at improving patients and citizens' health worldwide by means of multinational clinical research projects, to which it offers integrated support by providing:
Information (by the network of ECRIN European Correspondents)
Consultancy (by experts selected within the national ECRIN partners and coordinated by the European Correspondent)
Services (coordinated by the ECRIN European correspondents and provided by national ECRIN partners at not-for-profit rates for academic trials).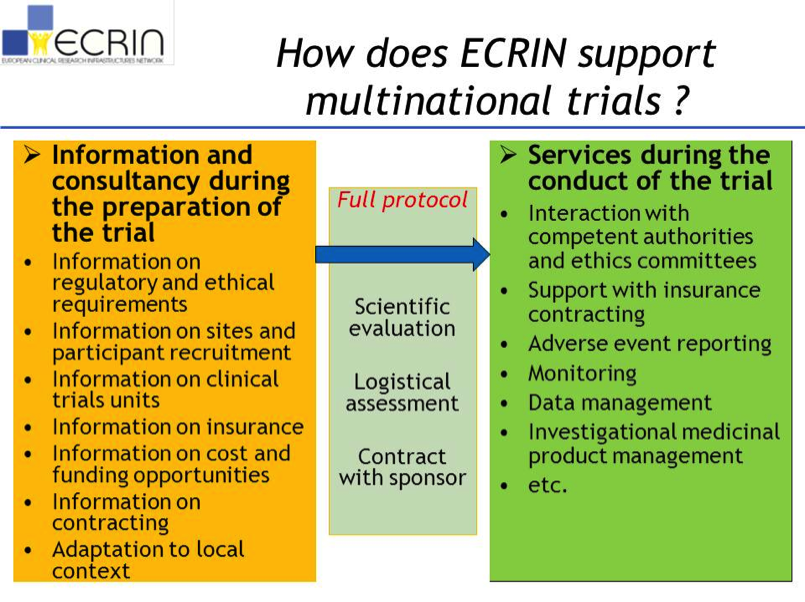 Some dates and a bit of history about ECRIN
2012-today
ECRIN runs two initiatives in parallel, both funded by the FP7 Infrastructure Unit:
ECRIN-ERIC, a legal entity whose sustainability is supported by Member States, will be in charge of supporting the multinational clinical trials selected by the ECRIN Scientific Board.
ECRIN-IA (Integrating Activity, 2012-2015), will be in charge of further structuring and expanding the network, especially by promoting user-communities for rare diseases, medical devices and nutrition.
2008-2011
ECRIN preparatory phase (funded by the FP7 Infrastructure Program): develops the infrastructure aimed at supporting the set-up, performance and analysis of multinational trials in Europe. 
This project defines the legal structure, establishes a business plan (to ensure sustainability) and assesses how the infrastructure is organized by means of pilot clinical research projects (for more information see support section).
2006-2007
Second ECRIN project (ECRIN-TWG, funded by the FP6 Health priority): develops procedures and guidelines to support investigators and sponsors in multinational clinical research projects in the EU. Particularly focused on describing:
national requirements in terms of ethical review, regulation, adverse event reporting, risk-based monitoring
data management tools and requirements for ECRIN data centres
training resources for clinical research (including the material developed by ECRIN for the Summer Schools,  designed for training the European Correspondents).
In 2006, ECRIN is also listed by the ESFRI - European Strategy Forum on Research Infrastructures – roadmap.
2004-2005
First ECRIN project (ECRIN-RKP, funded by FP6 Health priority): identifies the main obstacles to multinational cooperation in clinical research and leads to a strategy definition for the future development of a pan-European infrastructure.
ECRIN Scientific Partners
ECRIN Network is based on the connection of national networks of clinical research centres and clinical trials units. The map below gives you an idea about how different European countries are involved in the projects. From the original webpage you can actually click on each country for a short description of the network.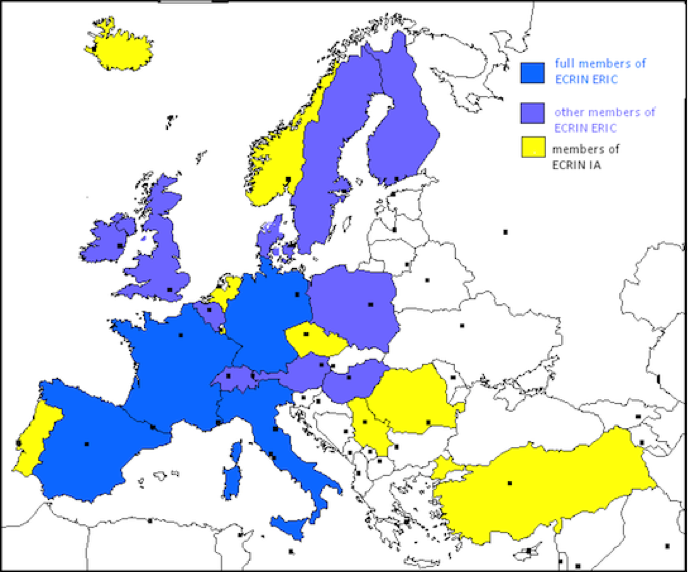 Would you like to know more about ECRIN? Here you can find more information about  ECRIN history, ECRIN funded studies and activities or ECRIN contacts. 
English